Oktoberfest is always a big event at Olde Magoun's Saloon, and this year we're making it the biggest ever with 9 Oktoberfest beers on draught and great events throughout September and October.
Starting with:
September 5th: Paulaner Keg Tapping Ceremony
On Wednesday September 5th at 8pm, join us as we tap a traditional keg of Paulaner Oktoberfest Weisn, the same beer they serve in the Paulaner tent in Munich. We bring out the wooden mallet and everything! We're also giving away a complimentary glass! Lederhosen are optional.
Traditional Oktoberfest Wednesday Menu
Through September & October we're featuring traditional Oktoberfest fare like Ruben Knockwurst, Jagerschnitzel, Bavarian Stew and more! We'll also be featuring Oktoberfest beer promotions, so watch our Facebook and Twitter feeds for more info. Wear Lederhosen or a Dirndl and your first pint is on us!
German Inspired Sunday Roasts
Also, through September & October our Sunday roasts will be traditional German roasts such as Schweinschaxen (crispy pork shank) with potato dumplings, cider-glazed cabbage, and mushroom pan sauce.
Oktoberfest Biergarten: September 15 from 12pm-6pm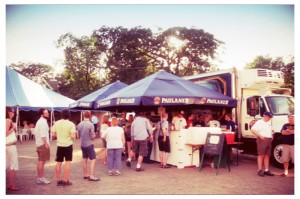 On September 15, we are taking over the CVS parking lot and turning it into an Oktoberfest Biergarten! Paulaner is driving in a truck with functioning taps of their Oktoberfest Marzen, Oktoberfest Weiss, Lager, Pilsner, Hefeweizen and Salvatore. We'll have tents, picnic tables, and of course, we'll be grilling up traditional Oktoberfest fare. This is the event you don't want to miss. Sponsored by DigBoston and Drink Craft Beer.
Check out a video of the biergarten here!