It's our favorite time of year! Oktoberfest bier, German food and great friends and family to share them with! Check out all the information below for beer promotions, Wednesday menu and special events.
Oktoberfest Kickoff Keg Tapping Ceremony
Wednesday, September 6 at 5pm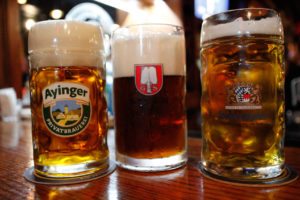 Help us kick-off the 9 week Oktoberfest season with the traditional keg tapping ceremony! We'll tap a gravity cask of Paulaner Weisn, the same beer that they serve at the tent in Munich! Then stay to enjoy the first night of our special German menu! Menu details are coming soon!
---
German Wednesday Menu
Wednesdays from 5pm – 11pm, September and October
OBATZDA
house made Bavarian cheese spread/country bread
KARTOFFELPUFFER
 potato pancakes/rustic applesauce/sour cream/chives
REUBEN KNOCKWURST
split knockwurst/ale braised sauerkraut/Swiss cheese, bacon infused thousand island dressing, warm German potato salad on grilled marble rye
PAPRIKA SCHNITZEL
pork cutlets/paprika gravy/pretzel spätzle/cider glazed cabbage
HAUS WURST PLATE
bratwurst/knockwurst/ale braised sauerkraut, warm German potato salad
SCHWEINBRATEN
roast pork loin/potato dumplings/brussels sprouts/rosemary cider jus
SCHWARZWALDER KIRSCHTORTE
chocolate layered cake/kirsch liqueur/cherries/whipped cream
---
All Day German Celebration
Saturday, September 30
German food served all day starting at Noon
Ceremonial Keg Tapping at 12:30pm featuring Paulaner Weisn – the same beer they pour in the tent in Munich
Traditional German music from 1-4pm
---
German Sunday Roast
Each Sunday in September and October starting at 5pm
Every Sunday during our two month long Oktoberfest celebration we will feature a special German roast from pork and beef to roasted chickens and shanks. Stay tuned to our social media channels for the latest roast info.
---
Best German Draught Beer Selection in the state!
Enjoy promotional events for these special biers on the dates below
(beers subject to change based on availability)
9/6 Weihenstephan Festbier
9/13 Paulaner Marzen & Wiesn
9/20 Benediktiner Oktoberfest & Wurzburger Oktoberfest
9/27 Ayinger Oktober Fest-Marzen
10/4 Traunstein Festbier
10/11 Hacker-Pschorr Original Oktoberfest
10/18 Spaten Oktoberfest
10/25 Hofbrau Oktoberfestbier
10/29 Andechser Spezial Hell