It's our favorite time of year! Oktoberfest bier, German food and great friends and family to share them with!
Oktoberfest Kickoff Keg Tapping Ceremony
Wednesday, September 7 at 5pm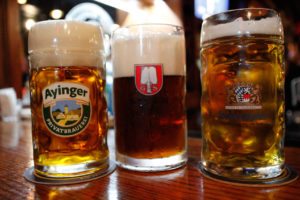 Help us kick-off the Oktoberfest season with the traditional keg tapping ceremony! We'll tap a gravity cask of Paulaner Weisn, the same beer that they serve at the tent in Munich! Then stay to enjoy the first night of our special German menu! Menu details are coming soon!
---
German Wednesday Menu
Wednesdays from 5pm — 11pm, September and October
BRATZEL
Soft Baked Pretzel With Bavarian Cheese Spread/Mustard
KARTOFFELPUFFER
Potato Pancakes/Rustic Applesauce/Chive Sour Cream
PORK SCHNITZEL
Pork Cutlets/Warm Potato Salad/Braised Cabbage/Lemon-Parsley Butter
HAUS WURST PLATE
Bratwurst/Knockwurst/Weisswurst/Ale Braised Sauerkraut/German Potato Salad/Mustard
SCHWEINEBAUCH ROULADEN
Sausage Stuffed Pork Belly/Caramelizzed Onions/Potato Dumplings/Braised Cabbage/Mustard Demi
SAUERBRATEN
Pickled Beef Roast/Spaetzle/Brussels Sprouts w/Bacon/Ginger-Raisin Jus
STRUDEL
Warm Apple Strudel/House Made Ginger Ice Cream
---
All Day German Celebration
Saturday, October 1st at 9:30am
Start the day early as we open early for the Bayern Munich match. We will have no fewer than 10 German beers on draught and a German menu served all day long starting at noon!
---
German Sunday Roast
Each Sunday in September and October starting at 5pm
Every Sunday during our two month long Oktoberfest celebration we will feature a special German roast from pork and beef to roasted chickens and shanks. Stay tuned to our social media channels for the latest roast info.
---
Best German Draught Beer Selection in the state!
Rotating Selection of the following
(beers subject to change based on availability)
HOFBRAU
WARSTEINER
PAULANER MARZEN
PAULANER WEISN
HACKER PSCHORR
AYINGER
WURZBURGER
KLOSTER ANDECHS
TRAUNSTEIN
BENADIKTINER
WEIHENSTEPHAN
SPATEN
DINKEL ACKER
HOFSTETTEN
Check our social media pages for brewery promotional dates!