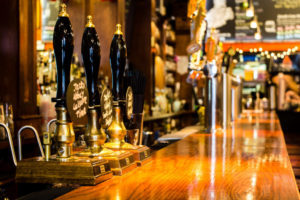 Get your team together for the trivia Somerville locals prefer at Olde Magoun's Saloon. Every Tuesday, we hold team trivia games for some fun and friendly competition. The competition starts at 8:30 PM every week and lasts until 11:30 PM. If you do well, you could win some awesome prizes – including ballgame tickets. Since we opened in 2004, trivia night has become a celebrated weekly event. Get a group of friends together, and give the event a shot. You may know more than you think!
Trivia Somerville With Great Food
If you're searching for places to play trivia in Somerville, head over to Magoun Square and you'll see Olde Magoun's Saloon on Medford Street. On Tuesday nights, you can keep one eye on the latest sports broadcasts while helping your team or table answer some general knowledge, sports, pop culture, and other trivia category questions. Don't forget to arrive early and order from our extensive selection of bar drinks and food selections.
When you play a game of trivia in Somerville at our bar and restaurant, choose one of our current selection of 28 draught beers, including local and craft brews that the owner hand selected. We also offer three rotating cask ales at any given time and a full selection of liquors – including small batch and specialty whiskeys. Whether you know your go-to drink or you want to experiment while playing trivia in Somerville, you'll enjoy our robust selection of drinks.
For shareable appetizers and satisfying meals, consider ordering our:
Wings. Served with ranch and your choice of sauces (including a classic buffalo, honey hot, and Cajun dry-spice), our wings will delight any palate. Share them with your team or eat them on your own! We won't judge.
19 different burgers. From our barbecue-slathered and hand-formed burgers to our egg-topped brunch favorites, you won't find a selection of burgers at any other restaurant that offers trivia in Somerville. Try the Amarillo burger for a southwestern taste or the Englishster for a more breakfast-friendly option.
Comforting mac-n-cheese. Topped with your choice of meat, our creamy macaroni keeps kids and adults coming back to our restaurant for more. This comfort food will warm up even the coldest winter night and make you feel right at home in your go-to neighborhood bar.
Take some time to explore the menu. We know you won't want to miss trying our weeknight specials too. Have trouble deciding? Take a look at some pictures from our kitchen on Facebook before coming out for trivia in Somerville.
If you can't make it out for trivia, consider coming in on the weekends from 10:00 AM until 2:00 PM. We serve a full brunch menu with handcrafted Bloody Marys, breakfast friendly fare, and more. Bring the entire family for food, drinks, and sports. When you leave, we'd love if you write a review for us!
Schedule Tuesday Night for Trivia Somerville
Enjoy a friendly and competitive game of trivia when you and your friends head out to Olde Magoun's Saloon on Tuesday nights. With fun prizes and a welcoming atmosphere, you'll love learning new things, making new friends, and trying new foods every week. We hope to see you there next week! For more information about team trivia, Somerville trivia buffs can contact the restaurant at (617) 776‑2600.