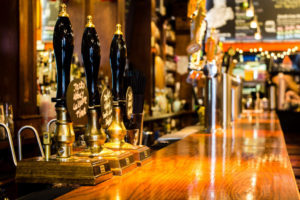 For the best wings, Somerville sports fans come to Olde Magoun's Saloon. Every restaurant does their wings a little different. Here, our wings start fresh and it just gets better from there. Each batch offers a crispy outer skin drenched in your favorite sauce and served with ranch. With several house-made sauces to choose from, you'll want an order of wings every time you walk through the door. Add us to the schedule for Monday night football to take advantage of 25¢ wings as long as they last. For the best wings in Somerville, head over to Magoun Square.
Best Wings Somerville With Exceptional Sauces
The best wings in Somerville start out with the sauces. The right sauce offers a balance of spice, salt, and buttery goodness. At Olde Magoun's Saloon, you'll notice the depth of flavor in each of our wing sauces. Choose from a selection classic buffalo, honey hot, honey mustard, smokey gold, Cajun dry-spice, General Gao, and the super-hot Nuclear Sauce (buyer beware!).
With each batch of wings hand tossed right out of the fryer, you can count on great crispness and mouthwatering tastes every day. Never bake store bought wings again. With reasonable prices and a generous helping, you'll love bringing the entire family out for the best wings in Somerville.
Great wings call for a great beverage. At Old Magoun's Saloon, we've got you covered. Our bar features a rotating selection of 28 beers on draught, including local and craft beers you may not find elsewhere. We also offer a rotating selection of cask ales for a unique beer experience. A full bar features craft and small batch whiskeys for added exclusivity. When you want a true bar experience to go with the best wings in Somerville, remember our brick-fronted bar on Medford Street. Like us on Facebook to see images from our kitchen, or leave us a review if you can.
Best Wings Somerville and More
Whether you order the best wings in Somerville or another selection from our extensive menu, you'll never walk away from Old Magoun's Saloon feeling hungry or dissatisfied. From a list of 19 unique burgers, customized macaroni and cheese, and more, you'll find something everyone at the table can enjoy.
Wings and football go together like cracker jacks and baseball. Here, we cater to our sports fans with nine high definition televisions throughout the restaurant, comfortable seating, and subscriptions to all of the premium sports channels you could want. Whether you're into collegiate level sports or professional, you'll find a television playing something you want to watch in our bar every day of the week.
On the weekends, enjoy our exclusive brunch menu available from 10:00 AM until 2:00 PM. In addition to our shareable wings, we offer eggs benedict and several other brunch staples. Check out our latest news to find out more about special events and holiday celebrations. Tuesday nights at 8:30 PM, you'll find our bar filled with trivia teams. Get a group together to enjoy the best wings in Somerville and test your trivia knowledge against our regulars.
Every day offers something new here at Old Magoun's Saloon. We look forward to seeing you here soon. To schedule an event or learn more about the best wings, Somerville restaurant goers can reach our team at (617) 776‑2600.