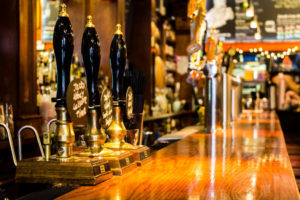 You won't find another restaurant serving the best steak tips Somerville diners prefer. Only Olde Magoun's Saloon's house made, chargrilled steak tips fit the bill. These tender cuts of steak marinate in our house marinade to develop a full flavor profile before we chargrill them and cover them in our house made sauce and serve them up with a side of fries. If steak tips sound like the perfect New England comfort food, you won't want to miss the dish served at Olde Magoun's Saloon. You won't find the best steak tips in Somerville anywhere else.
Best Steak Tips in Somerville You'll Want to Order Again
When we say we make the best steak tips in Somerville, we're not kidding. Our house recipe is the culmination of years in the business and an appreciation for New England tastes. When you order these perfectly portioned chargrilled bites, you'll love the char on the outside of the meat and the tender flavors that develop inside each morsel. Combined with a pint of your favorite brew and a heaping plate of fries, this is one of the most popular dishes on the menu.
In addition to the best steak tips in Somerville, our menu includes flavors from across the states and around the world. From our Thanksgiving-themed egg rolls to our Argentinian flatbread, you could order something different every day and find your new favorite at Olde Magoun's Saloon.
If you come in between meals, consider some of our shareable appetizers and our full bar. Nibble on some wings or poutine while you browse the latest 28 beers we offer on draught. For a different beer experience, ask about our rotating selection of cask ales. From traditional mixed drinks to craft whiskeys, ask your server or one of our helpful bartenders for a recommendation. Follow us on Facebook to see the latest posts from our bar. From the best steak tips in Somerville to the best beer pours, we offer a little something for everyone.
Best Steak Tips in Somerville With a Family-Friendly Atmosphere
Olde Magoun's Saloon is more than a neighborhood bar. We're a family friendly restaurant, sports bar, and trivia venue. We welcome hungry patrons in until 11:00 PM every night and stay open until 2:00 AM on Fridays and Saturdays and 1:00 AM every other day for drinks, ballgames, and good conversations. Come in for the best steak tips and stay for the great service, drinks, and television programming.
Our brick-fronted restaurant features a traditional wood paneled interior you might expect in an old-world pub. While our interior feels timeless, the menu and televisions bring the place into the 21st Century. Wherever you sit, you'll easily see one of our nine large screen televisions playing the most popular sports channels around. We subscribe to several major sports packages so we can show our guests the games they want to see while they eat the best steak tips in Somerville.
Try the Best Steak Tips Somerville Today
Throughout the year, we host several themed events including pig roasts, Oktoberfest celebrations, and New Year's parties. Check out our news for the latest scheduling. We can also accommodate private events including birthday parties, anniversary celebrations, and work gatherings. If you've eaten with us before, leave us a review! For questions or comments on the best steak tips, Somerville restaurant visitors can call Olde Magoun's Saloon at (617) 776‑2600.