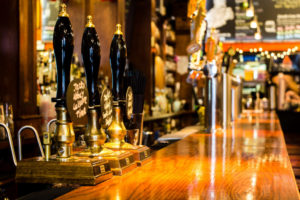 Locals come to Olde Magoun's Saloon when they want to enjoy the best brunch Somerville restaurants provide. Every Saturday and Sunday from 10:00 AM until 2:00 PM, you can order from our weekend brunch menu featuring specialty items from our in-house chef. Start off your day right with a Bloody Mary, our menu of hangover drinks, and our version of eggs benedict (we call them "Bennies"). You won't find another brunch menu in the area quite like this one. Next weekend, make Olde Magoun's Saloon your first stop of the day. Warning: Eating here may become a favorite part of your weekend routine.
Best Brunch Somerville With a Little of This and That
Great brunch menus marry the flavors of breakfast and lunch for a satisfying meal at the start of the day. Whether you're nursing a hangover from the night before or just getting the party started, you'll find what you crave when you order the best brunch in Somerville at Olde Magoun's Saloon.
Our brunch menu includes some of our regular menu staples including wings, nachos, and chili as well as the addition of several breakfast favorites. Among our brunch categories, you'll find:
Brunch friendly burgers. Breakfast-like burgers including our Benedict Arnold burger and the "Englishster" feature just cooked soft fried eggs, cheddar cheese, and other fixings on an English muffin. You can't go wrong with our classic All American burger any time of day. The best brunch in Somerville satisfies every burger craving.
Bennies. With four different styles of egg benedict, you'll find everything from classic flavors to modern twists. Try our Hippy Bennies with oven roasted tomatoes or our Southern Bennies with pulled pork on a buttermilk biscuit.
Skillets. Sometimes, the best breakfasts include a little of this and that. With fried or scrambled eggs, meat, and more, these skillets blend bold flavors with a little crunch for a satisfying meal.
Entrees. From mac-n-cheese to our Country Biscuits and Gravy, you'll find traditional breakfasts and lunches in this portion of the menu. Sometimes you just need our Three Egg Omelet or a pizza with fried eggs to start the day.
Whether you lean more towards breakfast or lunch fare, you won't walk away hungry or thirsty from a brunch at Olde Magoun's Saloon. For the best brunch in Somerville, remember to come in during the weekends. Bring your friends and family for a memorable experience.
Morning Friendly Drinks With the Best Brunch Somerville
Brunch is more than an excuse to blend breakfast and lunch foods together. It also gives you the option to indulge in some quality libations before noon. We won't judge. Our brunch drink menu features only the best mixed drinks. When you need the hair of the dog or something fun and fizzy, some of our favorite brunch time drinks include:
"

Bloody Good Morning" Bloody Marys. Choose from a variety of liquor bases and additions from our Bloody Mary drink list. With different levels of spice and flavor profiles, we offer a tomato juice cocktail that's sure to impress.
Fresh Mimosas and more. The best brunch in Somerville wouldn't be complete without the morning classic featuring freshly squeezed orange juice and champagne. Our other fruity and fizzy cocktails include fuzzy navels, Bellinis, Fruitinis, and the "Dying Paddy," featuring Irish white lightning, pineapple juice, and Hefeweizen.
Coffee drinks. For something with a little more energy, try one of our handcrafted coffee drinks blended with premium spirits and fresh brewed coffee. From our simple, classic Irish Coffee to the "Black and Gold" featuring Bailey's, Frangelico, amaretto, triple sec, and cinnamon sprinkled fresh whipped cream, our coffee drinks are sweet, strong, and delectable.
When you come out for the best brunch in Somerville, take your time looking at the menu. Place your order with one of our friendly servers or bartenders, and then relax and enjoy the morning or afternoon. With ballgames showing on large screens in the dining room and a family friendly atmosphere you'll want to recommend to friends, this casual brunch spot is down-to-earth, unpretentious, and fun. Check out our brunch menu to find your reason for eating here.
Discover Your Reason for Enjoying the Best Brunch in Somerville
Put the cereal box away. You deserve something more on a beautiful Saturday or Sunday morning in Somerville, Massachusetts. Hop in your car or on the bus and head over to Olde Magoun's Saloon. With a full belly, every weekend looks a little brighter. If you can't make it to the best brunch in Somerville, consider coming out to our place during regular operating hours for:
Our extensive menu selection. From our 28 rotating draught beers to our weekday night food specials, you'll find something new to love every time you visit your neighborhood bar. From our steak tips to our hand crafted sandwiches, our bar food beats out the competition.
Special events. In addition to offering the best brunch in Somerville, we look forward to celebrating every holiday and special event that comes along – from high-stakes ballgames to Oktoberfest and New Year's. Look at our updated event page to find out more about our schedule throughout the year.
Private parties. Talk to our team about reserving the space for engagement parties, birthdays, work events, and more. If you need an event venue with a delicious catering menu and friendly service, keep Olde Magoun's Saloon in mind.
A relaxing meal any day of the week. Whether you're on your own or with your family, we offer comfortable seating and casual environment you can enjoy anytime. Bring your coworkers for lunch or stop in with your kids after a ballgame during the week. We're always here to welcome you to your neighborhood bar for lunch, dinner, or the best brunch in Somerville. Leave us a review!
Every day brings something new to our restaurant and bar. You don't need a reason to come out and enjoy great food, friends, and drinks. We're open until 2:00 AM on Fridays and Saturdays and until 1:00 AM all other days. To learn more about the best brunch, Somerville restaurant goers can reach out to Olde Magoun's Saloon at (617) 776‑2600.