Long Winter's Night Tap Takover
Featuring Wicked Weed Brewing Company, January 2, 2017 at 4pm
Kick off the New Year with our special Wicked Weed Brewing Company Tap Takeover! It's freakin' cold outside so we are bringing the big stuff! Check out the list below.
Dark Age: 12% ABV
Bourbon barrel aged imperial stout brewed with local honey and brown sugar, this imperial stout spent upwards of 9 months soaking up rich flavors of bourbon while aging in oak barrels. With huge chocolate flavors playing together with the complexity of bourbon and a warming finish.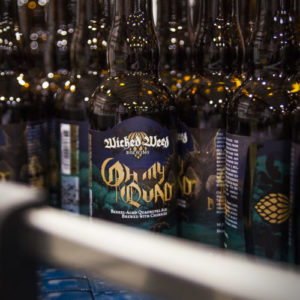 Oh My Quad: 13.4% ABV
Barrel-aged Belgian style ale in the Grand Cru tradition. This brewpub original evokes dried, pitted fruits through its combination of select yeast, malts and dried cherries.
Tyrant Double Red IPA: 8.5% ABV
Full of malt rich flavors backed up with deep pine, herb and grapefruit peel aromas. An all around hop heads dream.
Milk & Cookies: 8.5% ABV
An imperial milk stout brewed with golden raisins, cinnamon and vanilla takes us back to our childhood where freshly backed cinnamon-raisin cookies warmed us on cold winter nights.
Pernicious IPA: 7.3% ABV
This hop delivery vehicle is crafted to enjoy fresh with balanced brightness, drinkability and clean finish.