"the atmosphere is lively and Olde Magouns is no dive bar; it is very clean, lacking in intimidating machismo…"
— Somerville Patch
"…a well curated beer list and a menu offering skillfully executed takes on comfort food…"
— Boston Globe
"…a bustling Irish pub packed with regulars knocking back pints and watching rugby and hockey…"
— Phantom Gourmet "Gourmet Greatness!"
"…I loved the pub-style atmosphere, diverse craft beer selection, and friendly service…"
— The Economical Eater
"…huge, ever changing beer selection, super friendly staff and good food…"
— Yelp Reviewer
"…one of my favorite (if not THE favorite) places to drink and eat in the Boston area…"
— Beer Advocate Reviewer
"…boasts a girthy burger menu with wicked awesome combinations."
- BostInno
"This Somerville, Mass. establishment is known for comfort foods and a selection of craft beers"
-NECN
"A fantastic place to hang out for great food, great beer and catching up on the sporting event of the day."
- The Somerville Times
Click image below to watch the NECN video.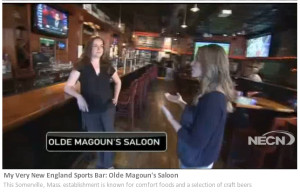 The Phantom Gourmet picks us as a "Best Restaurant To Warm Up To"
We were recently featured on Mass Realty, one of the top sites for Somerville, MA Real Estate. Check it out here: Beer Geeks Rejoice at Somerville's Olde Magoun's Saloon.