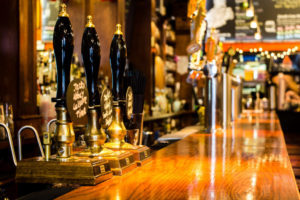 After ballgames, school, and other events, consider a local kid friendly restaurant. Somerville offers one of the best around: Olde Magoun's Saloon. At first glance, you may wonder about the kid friendliness of a restaurant self-described as a saloon. While we do offer an extensive selection of beers and spirits, the restaurant offers much more. Our food selection provides pub classics such as burgers as well as family favorites, including macaroni and cheese and pizzas.
Kid Friendly Restaurant Somerville – Don't Worry About the Noise
As a sports bar, Olde Magoun's Saloon is accustomed to a noisy restaurant environment. Here, you can bring your toddler or small children without worrying about disturbing other guests. We offer kid friendly seating and plenty of distractions with nine televisions playing at all times. Our kid friendly restaurant in Somerville gives parents the option of ordering an adult beverage over a casual meal.
Consider coming to our kid friendly restaurant in Somerville after your child's sports games and practices for everyday dinners and on the weekends. We offer one of the best brunch menus around in a casual atmosphere. If you're searching for distractions while you eat, consider bringing a tablet and taking advantage of our free Wi-Fi or using the time to teach your child about sports. With so many games broadcasted in the room, coming to our kid friendly restaurant in Somerville can turn into a learning experience as well as a relaxing family outing.
Ordering at a Kid Friendly Restaurant Somerville
At Olde Magoun's Saloon, our menu features several kid friendly selections. Even the pickiest eaters will find something enticing on our expansive menu. We highly recommend the:
Mac-N-Cheese. Our creamy and heaping skillets of macaroni are cooked to order with a variety of toppings, including hotdog, chili, and sausage. Kids who love this classic comfort food will dig into the dish with or without toppings.
Grilled Supreme Cheese. Elegant enough for an adult but yummy enough for a child, our grilled cheese sandwich features fontina cheese and tomato on buttered sourdough bread. If your child doesn't like tomato, we can always leave it off at our kid friendly restaurant in Somerville.
Cheese pizza. A simple flatbread pizza with mozzarella, provolone, and parmesan may sound great to little ears. Order this finger food and a soda for a child favorite.
Jumbo Pretzel. Our deliciously chewy pretzels come with cheese and honey mustard dipping sauces. For an afternoon snack or a picky eater, these pretzels offer simple satisfaction.
For other child-friendly fare, ask your server for recommendations. We can always make something to order that your child will love. Adults may enjoy some of our more complex menu items, including our buffalo wings, Wicked Magoun's Chili, and our piled-high Grilled Reuben. Check out our full menu.
Kid Friendly Restaurant Somerville for the Whole Family
For brunch on the weekends or a bite to eat during the week, keep Olde Magoun's Saloon in mind. We welcome entire families into our traditional pub environment and look forward to seeing you here. Located on Magoun Square at 518 Medford Street, our kitchen stays open every night of the week until 11:00 PM. Write a review for us! For more information about our kid friendly restaurant, Somerville locals and visitors can reach the restaurant at (617) 776‑2600.