We packed January full of events for Beer Geek Monday! Check out the amazing lineup of breweries and beers below!
January 4
Green Flash Brewing Co.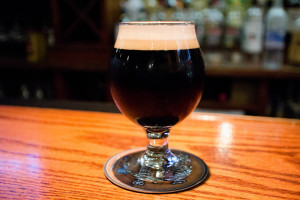 Serrano Stout — double stout with serrano chilies
Silva Stout — double stout aged in oak bourbon barrels
Natura Morta with Plum — Belgian-style Saison fermented in foudres with Brettanomyces, then aged in red wine barrels with Italian plum purée
Hand Shake IPA — collaboration IPA between Green Flash and Alpine
Alpine Pure Hoppiness — DIPA made with a whole lot of hops.
January 11
Maine Beer Company
Beer III — Black Ale with Citra, Lemondrop, Cascade and Falconer's Flight
Mo — American pale ale with Simcoe and Falconer's Flight hops
Peeper — first beer brewed by MBC, a pale ale with Amarillo, Cascade, Centennial and U.S. Magnum hops
Another One — the lighter side of Weez, pale malt IPA with Cascade, Citra, Simcoe and Warrior hops
Lunch — IPA with Amarillo, Centennial, Simcoe and Warrior hops
January 18
Hidden Cove Brewing Co.
Bouillon Blueberry Sour — aged in red wine barrels with lacto and Brett
Trinal — Belgian-style tripel aged in red wine barrels then aged in Woodford Reserve bourbon barrels
Jali — aged in Herradura Tequila barrels then secondary fermented with agave, apricots and grilled jalapeños. Slightly acidic and funky from the wild Brett
Berried Treasure — blueberry, blackberry, raspberry sour aged in rum barrels
plus a cask — TBD
January 25
Harpoon Brewing Co.
Hoppy Adventure – 7.8%, 65IBU New double IPA, light body with huge west coast hop flavor and aroma. Not super bitter
Rodney's Solera – 6.5% sour Belgian solera project using the same barrel for 7 years with a slightly different Belgian pale added per year.
Morning Wood – 8.8% bourbon barrel aged breakfast stout that I brewed 1.5 years ago then aged for a year. Dark Roast coffee and dark baking chocolate added.
Hoppy Amber (no name yet) – 5.5% fall beer replacement pilot
Coco Poblano Porter — 6.8% aka "Thunder Foam"