Hopheads Unite!
IPA

Tap Takeover In April!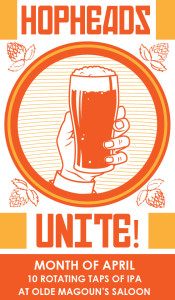 Calling all Hopheads! This is your month! We are dedicating 10 taps to only IPAs during the month of April. We are also only purchasing small barrels of each, so the turnover will be fast and furious. It's our hope to go through 50–60 of the top IPAs in the country, maybe even more! If you love IPAs, you don't want to miss this month-long event.
It all starts Monday, April 1 from 7pm-9pm with a special Harpoon IPA Event. We are featuring 4 of Harpoon's top IPAs; Black IPA, White IPA, Rye IPA and their flagship Harpoon IPA.