Guide to Oktoberfest 2015 at Olde Magoun's Saloon
It's our favorite time of year! Giant mugs of Oktoberfest beers, sausage, schnitzel, sauerbraten and more for two whole months! With so much going on, we've put it all together in one place for you. We will update this page as more information comes in.
Ceremonial Oktoberfest Keg Tapping
September 2, 2015 beginning at 7pm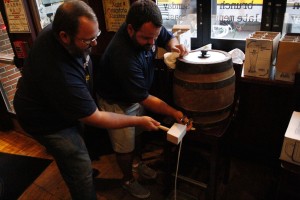 We kick off the Oktoberfest season with a keg tapping ceremony. This keg is a wooden keg of Paulaner Wiesn, the same blonde lager they serve in the Paulaner tent in Munich. It also launches our special Wednesday menu filled with traditional German cuisine that goes through September and October.
Oktoberfest Wednesday Menu
Every Wednesday in September and October, 5–11pm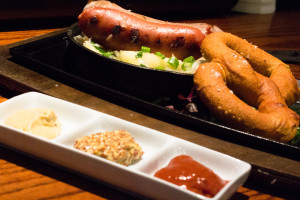 Each Wednesday in September and October we are featuring a special menu filled with authentic German cuisine such as Reuben Knockwurst, Paprika Schnitzel, Haus Wurst Plate, Rinder Rouladen and Rinder Gulasch.
We will also be featuring a special German Sunday Roast each Sunday in September and October.
Wednesday Menu: October, 5–11pm
BRATZEL 6
Fresh Baked Soft Pretzel, Mustard Dipping Sauce
SUPPEN 7
Bavarian Beer Cheese Soup, Crispy knockwurst, Rye Croutons
ZWIEBSCHNITZEL 14.95
Breaded Pork cutlet, Crispy Onions, Lemon Butter Sauce, Dill Spaetzel, Sweet & Sour Cabbage
HAUS WURST PLATE 14.95
Bratwurst, Knockwurst, Weisswurst, Ale braised sauerkraut
ROULADEN 14.95
Bacon wrapped Beef Loin Filled with Pickle, Caramel Onions, Mustard, Potato Dumpling, Sweet & Sour Cabbage
KNOCKWURST BURGER 11.95
Knockwurst Burger, Sauerkrauts, Mustard, Pretzel Roll, Potato Salad
STRUDEL 7
Warm Cranberry Apple Strudel, House Made Ginger Ice Cream
Oktoberfest Kickoff in Munich
September 19 beginning at 9:30am
Saturday, September 19 is the official beginning of Oktoberfest in Munich and we are holding a special all-day celebration!
Darmstadt vs Bayern Munich at 9:30am
We are the official host of the Bayern Munich Fans of Boston and we're opening early for the match against Darmstadt. Come cheer on Bayern Munich with this crazy bunch!
We will be featuring a special German menu from 2pm until closing along with at least 9 authentic German Oktoberfest beers on draught.
Oktoberfest Bier List
(subject to change based on availability)
Paulaner Oktoberfest Marzen
Paulaner Oktoberfest Weisn
Hacker-Pschorr
Hofbrau
Spaten
Weihenstephan
Ayinger
Warsteiner
Wurzburger
Traunstein (September)
Andechs (October)