Oktoberfest is our favorite time of year and you know we go ALL OUT every year! To help you keep up with all of the events, beer and promotions over the next two months, we have put together this handy guide. Check back often as we will update it with more information as it becomes available.
Oktoberfest Keg Tapping Ceremony
Wednesday, September 3 at 7pm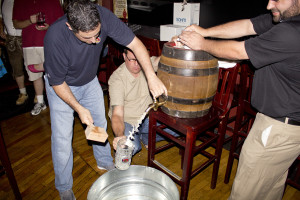 Help us kick it all off on Wednesday, September 3 at 7pm when we tap a keg of Paulaner Oktoberfest Weisn. This is a keg of the same beer that is served in the Paulaner tent in Munich during Oktoberfest! It is also the start of our Oktoberfest Wednesday menu. We will have 10 German Oktoberfest beers on draught including Paulaner, Hacker-Pschorr, Warsteiner, Hofbrau, Ayinger, Wurzburger, Weihenstephan and Spaten in .5L and 1L mugs!
---
Olde Magoun's Saloon Paulaner Oktoberfest Biergarten
September 27 and 28 from 12pm-6pm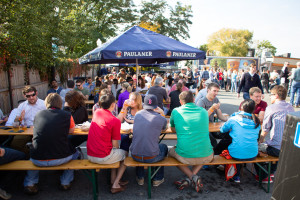 It's back! Our biggest event of the year is happening on Saturday, September 27 and Sunday, September 28! And of course, there is NO COVER CHARGE!
We are featuring 6 styles of beer from Paulaner including: Premium Pilsner, Helles Lager, Oktoberfest Marzen, Oktoberfest Weisn, Salvator Doppelbock and Hefeweizen.
Plates of authentic German food will be sold outside.
---
Oktoberfest Beer Promotions
Wednesday in September
&

October from 7–9pm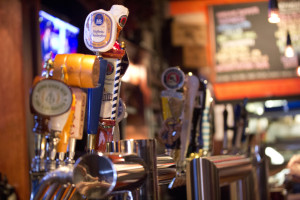 Each Wednesday in September and October, we will feature an Oktoberfest beer from a traditional German brewery from 7–9pm. Come by for some samples and possibly some free merchandise from the brewery representatives.
Here is the current schedule:
9/3 Paulaner Marzen

&

Weisn (ceremonial keg)
9/10 Hofbrau
9/17 Warsteiner
9/24 Weihenstephan
10/1 Wurzburger

10/8 Ayinger
10/15 Spaten
10/22 Hacker-Pschorr
10/29 Hofbrauhaus Traunstein
---
Authentic and Traditional German Sunday Roast
Sundays in September and October starting at 5pm
Even our Traditional Sunday Roast isn't immune from our Oktoberfest festivities! Join us every Sunday in September and October for a traditional and authentic German roast, such as Schweinshaxe (a Bavarian-style crispy ham hock) or Sauerbraten (a marinated German pot roast).
---
Oktoberfest Menu 2014
Wednesdays, September 3 — October 29 from 5–11pm
It just wouldn't be Oktoberfest at Olde Magoun's Saloon without our Oktoberfest Wednesday menu! Each Wednesday in September and October we will feature traditional Bavarian cuisine to pair along with our 10 Oktoberfest beers on draught.
Click HERE for the full menu.