June is here, and there's nothing we love more in the summer than chowing down on some hot dogs. This year, we took some old classics and new creations to make a hot dog menu that's sure to please everyone.
Dawg Gone Dogs
Wednesdays June3-24, 5–
11PM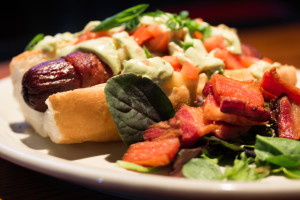 CHILI CHEESE DOG
Wicked good chili cheddar cheese scallions tater tots
HOT DOG SLIDERS
America cheese grilled potato roll fried egg hand cut fries
WINDY CITY
Mustard tomato onions sport peppers neon relish celery salt onion rings
BAHN MI WEENIE
Asian sausage crispy vegetables Red curry mayo cilantro baguette fried wontons
TWO PIGS IN A BLANKET
Bacon wrapped jack cheese diced tomato avocado mayo chicharrones
GERMAN SHEPHERD
Beer steamed knockwurst Swiss sauerkraut mustard pretzel roll potato salad
ROAD DOG
Smoked hot dog pulled pork coleslaw crispy onions fried pickles
CORNDOG
Battered fried hot dog on a stick honey mustard sauce hand cut fries
---
What's In our Hot Dogs?
Item
Producer
Ingredient
Hot Dogs
Kayem
Beef
Knockwurst
Kayem
Beef

&

Pork
Sliders
Pearl
Beef
Chinese Sausage
Caradona
Pork