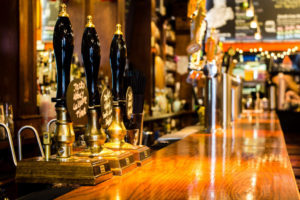 Come to Olde Magoun's Saloon if you're looking for the best sports bar. Somerville locals know they can count on our bar to deliver high quality craft beverages and access to all the best sports games on television today. Since 2004, our restaurant and bar has delivered the ultimate experience in a neighborhood sports bar. From the moment you walk in, you'll feel right at home. With classic wood paneled bars, large screens highlighting each play, and friendly servers ready to take your order, you'll want to come back to Olde Magoun's Saloon again and again.
Best Sports Bar Somerville for Every Sport
A great sports bar experience starts when you open the door. The overhead lighting, placement of the televisions, level of noise, and the décor all create a memorable time at the best sports bar Somerville has to offer. At Olde Magoun's Saloon, we play all major sporting events including local teams and US National Teams. With 9 high definition screens throughout the restaurant, you can easily watch games from any seat in the house. Our restaurant subscribes to all the major sports packages including four ESPN channels, MLB Network, NFL Sunday Ticket, and Fox Soccer Channel. Come here to watch football, basketball, baseball, hockey, soccer, racing, and more. Check out all of our sports packages.
If you play fantasy ball and host your fantasy draft here, our team will supply appetizers on the house. We're committed to delivering more than a chain restaurant experience. Here, you'll find the best sports bar in Somerville and around Boston. Just minutes away from downtown, come into our bar with your friends, coworkers, and family to watch the latest games with an expertly poured beer and mouthwatering menu selections.
Trivia at Your Sports Bar Somerville
Our sports bar in Somerville offers more than prime viewing areas. We also host events throughout the sporting and holiday seasons. Our regulars enjoy weekly events such as team trivia on Tuesdays and meal specialties throughout the week. With past events such as Viking Beer Night, Oktoberfest celebrations, and cover-free New Year's Eve celebrations, come to our neighborhood sports bar in Somerville for game coverage and more.
Every Tuesday night, we host team trivia games for our patrons to test their knowledge against other regulars. Get your team together and head over to the saloon before 8:30 PM. With topics that range from general knowledge to sports specific questions, our trivia offers the right amount of challenge for a fun weekday night at a sports bar in Somerville. Try it once, and you may want to make our trivia night part of your weekly routine.
Plan Events at Your Sports Bar Somerville
In addition to themed, holiday, and sporting events, Olde Magoun's Saloon serves as a casual event space for your next gathering. Celebrate birthdays, anniversaries, work events, and more in our catered event space. Choose from several of our menu favorites served buffet style or as part of a sit down function. As your sports bar in Somerville, we can accommodate almost any request for menu and drink selections.
Here, you'll feel right at home laughing with loved ones, telling jokes, or getting to know your coworkers better. Our in-house chef makes every event special with catered menu favorites, including Assorted Pizzas, Chicken Satay, and our Fireside Dip featuring our house-made chili, cream cheese, and jack cheeses all melted together and served with chips.
Friendly servers will keep the drinks flowing and keep the event space looking great during your time here. Come in and have a great time – we know you'll consider our sports bar in Somerville as one of your favorite catered event spaces in the Boston area. Read more about our event planning and menus.
Try Out the Best Sports Bar Somerville Today
Located on Medford Street in Magoun Square, Olde Magoun's Saloon is the best sports bar in Somerville and surrounding areas. We're open at 11:30 AM on weekdays and at 10:00 AM on Saturdays and Sundays. On Friday and Saturday, hang out with us until 2:00 AM and until 1:00 AM from Sunday to Thursday. Our kitchen closes nightly at 11:00 PM, so order your menu favorites before then.
If you've never been to the best sports bar in Somerville, make plans to come visit us soon. During the winter, the bar offers a cozy place to warm up and relax. In the summer, our bar area stays chilly and inviting. While you're here, take advantage of our 28 rotating selections of draught beer, our three selections of cask ale, or our craft spirits and small batch bourbons. Owner Greg Coughlin curates the selection each month for a unique tasting experience every time you order.
While you're here, keep some of the menu favorites in mind including:
Wicked Magoun's Chili. With kielbasa, steak, sausage, and hamburger, this chili offers an unrivaled depth of flavor and textures. Served with melted cheeses and sour cream, you'll want to add this bar staple to nachos, burgers, and more.
Short Rib Poutine. Nothing says comfort like this Canadian classic designed for New England tastes. Served over tater tots with a creamy gravy and cheese curds, enjoy this staple at our sports bar in Somerville year round.
Portobello Melto. Veggie friendly, this sandwich offers up a meaty marinated Portobello mushroom cap with grilled veggies, pesto, and goat cheese on sourdough sandwich bread. This sandwich is so flavorful you won't even miss the meat.
Buffalo Chicken flatbread. As part of our flatbread selection, this order comes piled with smoked chicken, spicy roasted jalapenos, red onion, and ample drizzles of buffalo and bleu cheese sauces.
Steak tips. Chargrilled steak tips marinated in a house sauce offer the rich, comforting flavors New Englanders love. Count on this sports bar in Somerville to deliver superb steak tips any night of the week.
If you're not hungry yet, check out our complete menu online. Something will piqué your interest. When it does, head on over for the right pairing of drinks and upscale pub fare. If you have experienced our offerings before, write a review for us. To talk to someone at the best sports bar, Somerville diners can call us at (617) 776‑2600.