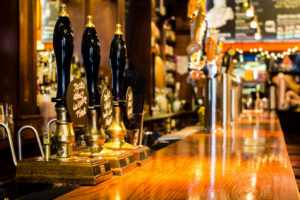 Eat, drink, and be merry at one of the best restaurants Somerville offers when you stop by Olde Magoun's Saloon. Since 2004, our brick fronted craft beer bar has offered consistently high quality local and international drinks and a crave-worthy menu from the chef, Howard Haywood. If you're searching for a place where everyone in your party can find something, stop by for lunch or dinner any day of the week. With subscriptions to the most popular sports channels and a friendly team of servers and bartenders, you'll feel right at home the moment you walk through the door.
Best Restaurants Somerville for Family Friendly Meals
Our neighborhood establishment features a cozy pub environment with classic wood-paneled features and several screens for viewing the latest game. Regulars of one of the best restaurants in Somerville include families with children, couples, and individuals. We welcome everyone with the same friendly service and extensive drink and food menu. Whether you're craving a plate of wings the whole table can share or the biggest Reuben you've ever seen (made with our house cured corned beef brisket), you'll find something on our family friendly menu to order time and again.
Our flatbread pizzas, grilled cheese sandwiches, and macaroni and cheese dishes keep parents and children happy. As a local bar, you'll never have to worry about your kids getting too rowdy. It's the perfect low key place to kick back, enjoy a beer, and watch the game with locals. Of all the best restaurants in Somerville, you won't want to miss the laid back atmosphere here at Olde Magoun's Saloon.
Great Craft Brews at the Best Restaurants Somerville
Today, bars offer visitors a wide range of drinks from complex cocktails to low-cost staples including Budweiser and Coors. Occasionally, you'll find a bar and restaurant with the right mix of unique, high-quality brews served at just the right temperature and expertly poured that can also deliver a mean basket of wings and a mouthwatering burger. Olde Magoun's Saloon offers the right mix of flavor and selection for even the most discerning palates – all in a casual, neighborhood bar atmosphere. As one of the best restaurants in Somerville, we look forward to showing you why diners come back week after week.
Inside our unassuming brick-fronted "saloon," those over 21 can choose from a selection of draught beers, cask ales, and specialty spirits that our owner, Greg Coughlin, handpicked. We're one of the few establishments with three rotating cask ales ready to pour at any given time. If you've never tried cask conditioned beer, you're in for a treat. A secondary fermentation period, the right temperature, and a preservative free blend of ingredients give these beers their unique and history-inspired flavors. Read more about cask ale. We keep a rotating supply of 28 local and imported beers on tap. If you're not interested in beer, our full bar includes a variety of spirits from whiskey to gin. Pick your poison at one of the consistently best restaurants in Somerville.
Best Restaurants Somerville for Every Craving
While many of our patrons come in for our expansive drink selection, those who don't imbibe find our restaurant equally appealing. With an eclectic menu of pub favorites and seasonal specials, you won't find this kind of food at a local chain restaurant. The best restaurants in Somerville, including Olde Magoun's Saloon, deliver one-of-a-kind menus designed to keep locals and visitors coming back for more.
If you're in the neighborhood, check out some of our menu favorites, including our:
Big Whiskey burger. Our thick, hand-packed burger comes topped with Applewood smoked bacon, cheddar cheese, crisp onion rings, and a bourbon

BBQ

sauce. Choose from favorite burger accompaniments, including nacho chips, slaw, Cajun pasta salad, fries, onion rings, or a side salad. Only the best restaurants in Somerville know how to make a burger this filling and satisfying.
Mac-n-cheese. This comfort food is usually hit or miss at restaurants. At Olde Magoun's Saloon, we're known for our custom toppings, creamy sauce, and perfectly cooked pasta. On a cold winter day, nothing will warm you up quite like a pint of beer and a bowl of our unique macaroni and cheese.
Saloon nachos. Add your choice of toppings to this bar staple featuring crispy, homemade nachos and house pickled jalapenos. As a shareable appetizer or a meal by itself, this piled high plate of nachos comes in full and half-sized orders.
Fresh wings. With several dipping sauces including buffalo, a sweet honey hot sauce, smoky gold sauce, or a Cajun dry rub, our crispy wings and boneless tenders deliver a powerful punch of flavor in a small package.
As only a sampling of our large food menu, these items showcase the range of selections that make the saloon stand out as one of the best restaurants in Somerville. Explore the full menu online or stop by to find lighter fare, unique compilations, and must-have bar grub.
Events at Best Restaurants Somerville
Need a reason to add Olde Magoun's Saloon to your list of best restaurants in Somerville to try? Consider our weekend-only brunches with delicious Bloody Marys and egg-centered dishes or come in to a specialty event throughout the year. Join us around the holidays for themed celebrations or plan a private party here for you or your dearest loved ones. Whenever you come in, you'll understand why more locals consider the place a must-eat restaurant in the area.
Only a few minutes away from Boston, We're open until 2:00 AM on Fridays and Saturdays and until 1:00 AM all other nights. On Saturday and Sunday, we serve brunch from 10:00 AM until 2:00 PM.
Whether you drink or stick with something non-alcoholic, you'll enjoy a trip down to Olde Magoun's Saloon on Medford Street in Magoun Square. This classic neighborhood eatery will fast become your go-to spot for a casual meal or a place to dine while away in the afternoon. With free Wi-Fi and sports television playing during opening hours, we look forward to seeing you stop in for a drink or bite to eat. Feel free to leave us a review. For more information about one of the best restaurants Somerville locals recommend, contact Olde Magoun's Saloon at (617) 776‑2600.