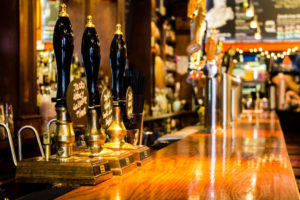 Olde Magoun's Saloon takes pride in serving some of the area's best burgers. Somerville locals know they can count on quality and consistency every time they order one of our hand crafted, premium burgers. Since we opened our doors in 2004, our sports bar has become a local institution. For special events, ballgames, and everyday meals, you can count on our professional chef, bartenders, and servers to deliver a high-quality experience each time you visit.
If you're in town visiting or you're a local searching for the best burgers in Somerville, remember Olde Magoun's Saloon. Serving food every day of the week until 11:00 PM, we're here anytime the craving for a fresh made, juicy burger hits. If you've ever had one of our great burgers, feel free to leave us a review to tell us all about it.
Best Burgers Somerville With Inventive Toppings
When you're really hungry, nothing beats that first bite of a perfectly cooked burger. The best burgers in Somerville feature the right amount of sauce, toppings spread evenly over the burger, and a springy yet slightly crisp bun. Paired with a thirst-quenching selection of draught beers, bottled beers, and cask ales, the burger experience at Olde Magoun's Saloon is one you won't want to miss.
Our menu features 19 different burger profiles at any given time, served with your choice of lettuce, onion, tomato, and house cured pickles and a side of nacho chips, homemade coleslaw, homemade Cajun pasta salad, onion rings, fries, or a side salad. With so many options to choose from, you may need to order an appetizer while you make a decision. We highly suggest the shareable Saloon Nachos, Short Rib Poutine, or our Mac & Cheese Triangles.
Some of the best burgers in Somerville on our Menu include:
Bayou. This blackened burger is topped with a fried green tomato, tasso ham, and Tabasco remoulade. Close your eyes and let flavors transport you all the way down to Louisiana.
Holey Moley Guacamole. Guacamole makes everything better, including this burger. In addition to a healthy slathering of guacamole, this burger includes smoked bacon and cheddar cheese.
Death Wish. You may only order this burger as part of a dare. The burger features flavors from several types of peppers including chipotles, ghosts, habaneros, and jalapenos. Add pepperjack cheese and sriracha sour cream, and you have one hell of a spicy burger. This one comes with a warning, folks. Eat it at your own risk.
Big Whiskey, Hillbilly, Lonestar, and Trailer Park. The menu for the best burgers in Somerville wouldn't be complete without some

BBQ

flavor profiles. At Olde Magoun's Saloon, we offer four distinctive

BBQ

burgers. The Big Whiskey features Applewood smoked bacon, cheddar, onion rings, and a bourbon

BBQ

sauce. The Hillbilly is topped with house smoked pulled pork, North Carolina slaw, American cheese, and a sweet

BBQ

sauce.
The Lonestar is topped with our house-made chili, caramelized onions, pepperjack cheese, and BBQ sauce. The Trailer Park is served on Texas toast and topped with mac & cheese and our bourbon BBQ sauce.
Take a look at our burger menu to find the toppings and burger style that suits your craving best. Each one takes traditional burger flavors and adds something unique for an experience you'll only find at Olde Magoun's Saloon. The best burgers in Somerville are here every day of the week.
Pair the Best Burgers Somerville With Great Drinks
To enjoy the best burgers in Somerville to the fullest, take advantage of our extensive drink selection. Here, the owner personally selects the 28 rotating beers on draught and the three rotating lines of cask ales we serve. Ask us about our selection of small batch and specialty whiskeys while you're here. We offer some drinks you won't find anywhere else in the area.
Our bartenders can pour your favorite mixed drink from our full bar or custom make a drink you may not have tried before. Whether you're looking for a well-poured standby or something new, you'll appreciate our attention to proportions, mixing, and pours. While the environment offers a casual and relaxed atmosphere, we take our drink serving business seriously. If you're over 21, ask our bartenders for a sample of anything we carry on tap. We want you to feel completely satisfied with your drink purchases when you spend time here. The best burgers in Somerville pair nicely with many of our beers and mixed drinks. For a more personalized recommendation on pairings, ask your server when you visit.
Order the Best Burgers Somerville Today
While we're known for the best burgers in Somerville, Olde Magoun's Saloon offers much more. Every day of the week, we play the latest games on nine high definition televisions located throughout the bar and dining room. We offer limited time food specials and a team trivia night every week. Bring your wittiest, smartest friends with the most random knowledge on Tuesday nights to try your luck in our weekly round of team trivia. The games start at 8:30 PM, so consider stopping in a little earlier.
Check out our latest news for our schedule of holiday and special events. From New Year's parties to Oktoberfest specials, we're always looking for an excuse to celebrate the season. For private events, we offer a full catering menu and drink packages designed for small and large gatherings. Consider hosting your next work event, birthday, anniversary, or holiday party in our space. You'll love the atmosphere, food, and service our team provides.
The next time you want a great burger, don't settle for the thin patty at the local fast food joint or the flavorless meat at a chain restaurant. Turn your meal into an experience with the best burgers in Somerville at Olde Magoun's Saloon. Our kid friendly and casual atmosphere offers just what you need to take a load off and relax any day of the week. If you can't make it this week, try us on the weekends. From 10:00 AM until 2:00 PM on Saturdays and Sundays, we serve a great brunch menu complete with Bloody Mary's and champagne cocktails. For more information on the best burgers Somerville has to offer, contact our team at (617) 776‑2600.