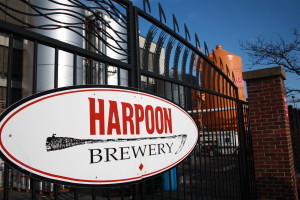 We're kicking off Beer Geek Monday on 1/13 with a very special Harpoon Brewery Tap Takeover! You may be familiar with their IPA and UFO line, but on Monday, Harpoon is opening their cellars and bringing in some very special and rare barrels. Check out this great line-up!
Cask
Black IPA Dry Hopped with Chinook
The Chinook hops give it a bit more piney nose than the standard fruity citrus nose of the bottles. A specialty malt called Midnight Wheat gives this beer an almost stout-like appearance without the overly roasty attributes often associated with traditional dark malts. Chinook, Simcoe, Cascade, and Citra hops provide a fruity aroma to complement the earthy, spicy bitterness of this dark ale.
Draught
Oyster Saison — ABV 6%
A very drinkable interpretation of a Belgian Farmhouse Ale with some unusual ingredients. Freshly shucked oysters and their liquor were added to the boil as well as a very subtle addition of New Mexico Red Chiles to add to the experience.
Tiger's Wood (Aged 2 years) — ABV 8%
A breakfast stout called Morning Wood was blended with a chocolate cherry porter called Diet Tiger's Blood and aged in a Bourbon barrel for months. The result is an 8% ABV dark ale with all kinds of complexity, from earthy coffee notes to sweet and fruity cherry and esters. Last logs in existence of this.
Alterholz — ABV 6%
A balanced, sessionable German-style Alt beer was aged in a whiskey barrel over the summer, developing extra oak and fruit notes.
Rodney's Solera (Aged 3 years) — ABV 7.5%
We put Belgian ales in these oak barrels which were inoculated with a special mix of wild yeast / bacteria. When they're ready, we keg off 80%, leave behind the rest in the barrel and top them up with a fresh batch, in a process loosely based on the Solera system used by Spanish Sherry producers. This is the 5th generation. Dried cherry and apricot fruit notes and a winey fruitiness add to the balance of hops and Belgian yeast.
Bronze King Barleywine (Aged 8 months)
Complex aromas and flavors of dark fruit, pepper, vanilla, and caramel complement the unique combination of Chinook and Tettnang hops in this hearty ale.
Czernobog (Aged 1.5 years)
It took four years of exploring big beers before we decided to brew Czernobog. Originally brewed in England for shipment to the frigid Baltic, Russian Imperial Stouts have helped define American craft brewing, and for good reason. Layering a high abv between complex flavors of chocolate, molasses and rich fruit in a way that allows the beer to shine without being overwhelmed by alcohol is a testament to the brewer's art, and Czernobog achieves that balance perfectly.
Named after the ancient god of darkness, Leviathan Czernobog features a rich malt aroma and flavor reminiscent of unsweetened chocolate, molasses, and dark fruit, balanced out by English hops. Dark in color with a complex malt bill and the warming hint of alcohol while maintaining harmony throughout, the Russian Imperial Stout will withstand the darkest of winters.