Anderson Valley Brewing Company Tap Takeover
Monday, July 7th at 6pm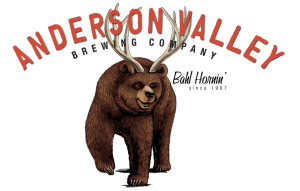 On Monday, July 7th, Anderson Valley Brewing Company is taking over our taps! This brewery is named for the valley in which they are located in Northern California. Around the turn of the century, Anderson Valley was a very isolated farming and logging community. To pass the time, the locals began to use self-developed terms that became a regional dialect called Boontling. Many of the Anderson Valley beer names come from this linguistic phenomenon.
Founded in 1987, the Anderson Valley Brewing Company brewed out of a 10-barrel brewhouse, located in the lower level of its brewpub, The Buckhorn Saloon. Gleaming stainless steel vats brewed and fermented barley and other specialty grains to create outstanding ales, porters, stouts, and wheat beers. These brews began as a dream of Kenneth Allen to create the smoothest tasting ales available anywhere.
When the demand for their award winning ales exceeded the capacity of their 10-barrel brewery below the pub, they built their present 30-barrel facility at the corner of Highways 128 and 253, a mile from the center of Boonville. That was in 1996, and this brewery saw them through a dramatic period of growth, which included the introduction of a 12 ounce bottling line and a production level of 15,000 barrels in 1998, twice the amount brewed in 1997.
— from the Anderson Valley Brewing Company website.
The Beers:
Hop Ottin' IPA 7% ABV
Classic West Coast IPA. 100 on Beer Advocate
Heelch O'Hops 8.6% ABV
Citrusy double IPA with a hint of caramel
The Kimmie, the Yink, & the Holy Gose 4.2% ABV
Refreshing, mildy sour American Gose
Keebarlin' Pale Ale 4.2% ABV
Sessionable, hop-driven pale ale
Summer Solstice 5% ABV
Cream soda for grown ups! Perfect with a burger
Boont Amber 5.8% ABV
THE benchmark for American Amber ales
Barney Flats Oatmeal Stout 5.8% ABV
Dry and roasty. 100 on Beer Advocate